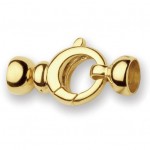 Discover our catalogue that contains all the findings and clasps in 18k gold, rhodium-plated silver and in silver. These include mountings for earrings, ear-studs, pendants and rings for all your creations and requests, as well as pearl prices per piece. (Currently only in French/German)
We supply our customers pearl pairs directly mounted on gold or silver ear-studs, presented on a simple acrylic display. Naturally, these are also available per piece or individual pairs.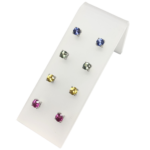 Discover our classic sapphire ear-studs and pendants, mounted on 4 prong 18k white gold. Our high quality natural sapphires are unheated and colour matched here in Lausanne. Round and Asscher cuts are available in 4 and 5 mm sizes.